Clippers and cocktails. Shoe shines and razors.
Words like these seem to be thrown together a lot these days when people are discussing men's haircuts.
Men's grooming has never been more talked about than right now. "Old school" barbering and styling has been seen on TV shows and in fashion magazines everywhere you look.
So where does one go to get this type of look or receive these types of services? It seems like new places are popping up everywhere. These salons or barbershops are offering additional services or amenities to elevate your experience. Many of these offerings are meant to make the experience more "masculine."
While someone may walk away with "an experience" it begs the question; "Did they walk away with the best haircut possible?" And was paying extra for everything worth it?
I just celebrated my 20th year in the hair industry. During that time period I have focused primarily on men's grooming. I have been an educator for 17 years and have been able to travel around the world teaching men's haircutting. I work alongside several educators at Seven Salon. We value education above everything else. We feel strongly that this is conveyed in the finished work that is seen on our clients.
I state that simply because when it comes to men's haircuts and grooming we bring the goods.
Our goal is to make sure that every guy that comes into our salon walks out with a customized cut that will make him look and feel great. Our focus is on understanding your hair texture and making the best recommendation for you. We are dedicated to finding a look that suits you and that gives you the best "grow out" possible.
That last statement is important. How many times have you gotten a haircut only to look a couple of weeks later and realize that it is already feeling long? If that has happened then you definitely didn't have the proper cut.
We also want to help you select the right product to support your cut. We want you to be able to style your hair with ease and not worry about it. We don't want you to work hard just to achieve a finished style. We have products that are easy to use and last.
So in the end I have to ask what is more important: the experience or expertise?
We feel that you get both at Seven Salon! Spring is here, so get in now so you are ready for the season with a current look!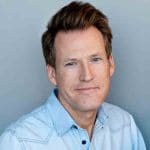 Patrick Butler
Stylist at Seven Salon